Lotion & Moisturizer
Tea Tree Foot Cream
Intense Hydration Meets Healing: Our unique blend of Aloe Barbadensis Leaf Juice, and Sunflower Seed Oil not only hydrates but also repairs your skin, transforming rough, cracked heels into baby-soft feet.

Cooling Sensation, Instant Relief: Feel the soothing embrace of Menthol, Peppermint, and Spearmint oils as they provide relief to tired, aching feet while eliminating odors.

Botanical Extracts for Holistic Care: Unleash the healing powers of Dandelion, Geranium, Horsetail extracts. These botanicals work synergistically to rejuvenate skin cells, improve circulation, and offer soothing benefits for an all-around foot wellness experience.

Non-Greasy, Fast Absorbing: Experience deep moisturization without the slippery, greasy after-feel.

Scent-sational Experience: Invigorate your senses with our aromatic blend of natural oils, turning your foot care routine into a spa-like experience. Perfect for unwinding after a long day!
Your item will be shipped within 1 business day and we offer free 2-3 day delivery on majority of our products.
We have a 100% Satisfaction Guarantee. You have 90 days to decide if you like the product or not and any time within this time period you can return the product for a full refund.
Water, Aloe Barbadensis Leaf Juice, Helianthus Annuus (Sunflower) Seed Oil, Glycerin, Stearic Acid, Glyceryl Stearate, Cetyl Alcoho,l Stearyl Alcoho,l Melaleuca Alternifolia (Tea Tree) Leaf Oil, Taraxacum Officinale (Dandelion) Root Extract, Geranium Maculatum Extract, Equisetum Arvense Extract, Centella Asiatica Extract, Mentha Piperita (Peppermint) Oil, Mentha Viridis (Spearmint) Leaf Oil, Gaultheria Procumbens Leaf Oil, Tocopheryl Acetate, Menthol, Xanthan Gum, Glyceryl Stearate Citrate, Alcohol, Sodium Carbomer, Ethylhexylglycerin, Phenoxyethanol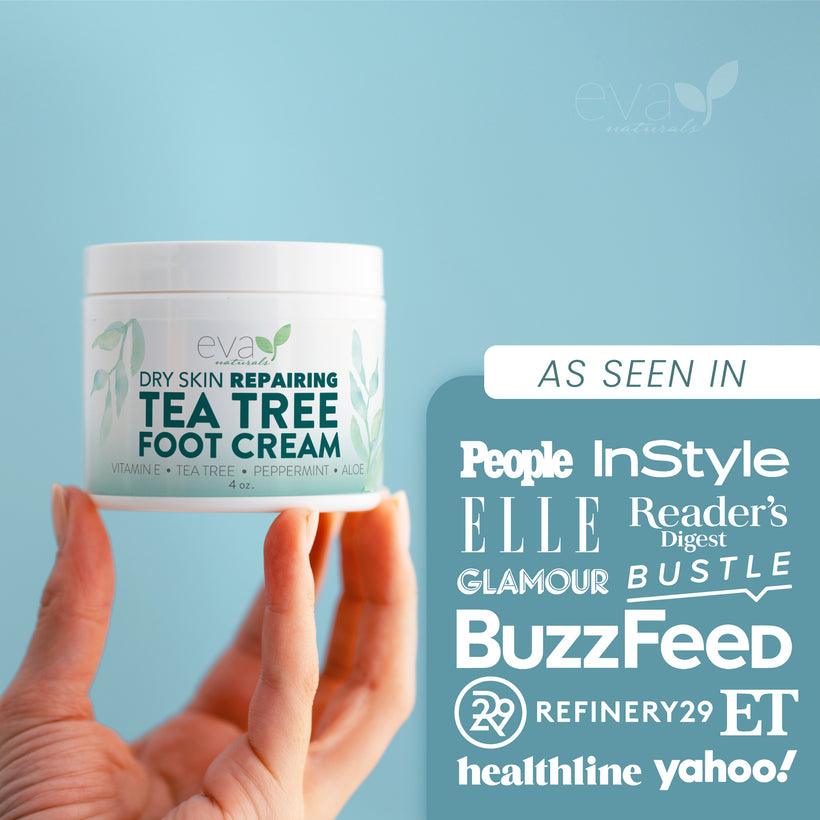 Eva Naturals is a boutique, family-owned skincare company located in the heart of Cajun country, South Louisiana. We create targeted skincare with high-performance botanicals and safe science-based ingredients that produce powerful results.
We're forging a path to be at the forefront of the accessible clean beauty revolution as advocates for your skin, the environment, and our global community.
Creating safe, cost-effective, and focused skincare with a responsible blend of potent botanicals and non-toxic actives is just what we do, but seeing the impact our products make on the well-being of our customers is what drives us.